Remco A. Spanjaard
Email:
Research Descriptions:
Development of a Semiconductor Nanochannel Sensor for Detection of Novel Melanoma Biomarker TROY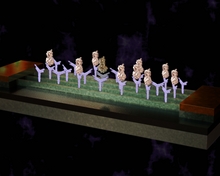 The number of cases of melanoma is rising at about 3% per year, to an estimated 62,500 new cases in 2008 in the US alone. Despite major efforts, there are still no efficacious therapies for advanced stage disease and this is not likely to change in the foreseeable future. In this regard, it would be extremely helpful to have a sensitive diagnostic blood test available that can detect early stage metastatic (occult) disease, as a small tumor load may respond better to treatment than clinically-established, metastatic disease. This blood test would also be valuable for monitoring therapy-responsiveness. Unfortunately, however, no such diagnostic blood test exists for melanoma. We will address this issue by developing a semiconductor nanochannel sensor that can detect novel melanoma biomarker TROY with sufficient sensitivity to be clinically useful. The nanoscale field-effect transistor sensor measure the conductance change of bio-functionalized nanowires, and can be configured to provide a simple, effective and potentially inexpensive method for melanoma biomarker sensing. The nanosensor technology has already been used for ultrasensitive detection of a number of proteins, including a breast cancer biomarker CA15.3 protein with a sensitivity of 2 U/mL (relevant for clinical use). The goal is to generate a semiconductor nanochannel sensor that can detect shed TROY extracellular domain at physiologically-relevant concentrations of 0.5-1 ng/mL or less. Following validation of the technology, they will obtain melanoma patient blood samples from hospitals such as BMC. We will focus on establishing TROY levels in metastatic melanoma patient samples before and after treatment to determine if TROY serum levels correlate with therapy responsiveness.